Fur & Feather Flower Abstract
Loveland, Colorado
Photo © copyright by Curtis Ghent.
Print Only
The print only option is the most affordable way to go. Images are printed on high quality archival photographic paper without any mounting or framing. The benefit is you can have it framed exactly as you like. Print usually arrive in 5-7 days.
Select a print size:
Plaque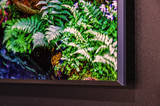 This is a affordable to display you artwork. It is both durable and beautiful. It allow the images to look almost three dimensional creating the impression of actually being there. Another benefit is the artwork is very durable and can be cleaned with a soft damp cloth. The artwork resists fading as it has a UV coating. Please allow 3-4 weeks to receive your order.
Select a print size:
Float Plaque
FloatPlaqs give your art added dimension as if it is floating off the wall. FloatPlaqs are quickly becoming a favorite for fine art galleries and artists. Artwork is maounted on a 3/8" thick surface, finished witha beveled edge, and given a 3/4" deep backing to create a floating effect. A simple French cleat system is provided to securely mount and display your art. Please allow 2-3 weeks form the time you order until the time it is received.
Select a print size: