Crystal Mill
Crystal, Colorado
Crystal Mill, or the Old Mill is an 1892 wooden powerhouse located on a rock outcrop above the Crystal River in Crystal Colorado and is on the list of National Register of Historic Places. Photo © copyright by Curtis Ghent.
Print Only
The print only option is the most affordable way to go. Images are printed on high quality archival photographic paper without any mounting or framing. The benefit is you can have it framed exactly as you like. Print usually arrive in 5-7 days.
Select a print size:
Oxidized Porcelain Tile
Images are laminated onto oxidized porcelain tile with a fade and scratch resistant coating. This presentation is ready to hang on your wall. Please note the images for the 20x20 oxidized porcelain tile will be cropped to retain the proper size proportions.
Select a print size:
Plaque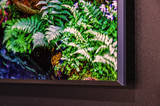 This is a affordable to display you artwork. It is both durable and beautiful. It allow the images to look almost three dimensional creating the impression of actually being there. Another benefit is the artwork is very durable and can be cleaned with a soft damp cloth. The artwork resists fading as it has a UV coating. Please allow 3-4 weeks to receive your order.
Select a print size:
Float Plaque
This is wonderful way to make your artwork really stand out, especially if you have a wall color that is similar to the image. We create another plaque that is completely black, which is larger that the picture plaque. This larger plaque floats off your wall using a French Cleat. The picture plaque is attached to the back plaque using another French Cleat. The end result is a image that seems to float off the back plaque which floats of the wall. Please allow 3-4 weeks to receive your order.
Select a print size:
Dye Infused Aluminum With Frame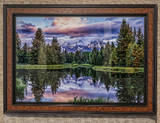 This has become a very popular way of displaying an image. The image is infused to the aluminum adding a depth and richness of color. The image is then given a 3/4" backing to create a floating effect. A French cleat system is used to display your art. Please allow 3-4 weeks to receive your order.
Select a print size:
Canvas
We wrap the image around a solid box rather than a stretcher frame. This results is a product that will not sag in the middle. The edges are 1 1/2" thick with t he image mirrored on the edges. The printing is extremely high quality with the same UV protective coating as out plaque products. Please allow 3-4 weeks to receive your order.
Select a print size: